Valparaiso Inn Bed & Breakfast
Casual Elegance in the famed Washington Street Historic District
The Valparaiso Inn Bed and Breakfast is just a short, three block walk from Downtown Valparaiso's iconic Lincolnway with its ethnic restaurants, wine bars, micro-breweries, coffee shops, boutiques, galleries, theatres, and salons. The Central Park and Urschell Pavilion in the heart of downtown host over 100 events and festivals annually, including a farmers' market in the summer and ice skating in the winter. Just one mile from Valparaiso University making Valparaiso Inn ideal accommodations for visiting parents.
Located at 301 Washington Street, the Valparaiso Inn is one of the city's beloved homes in the Historic Washington Street District.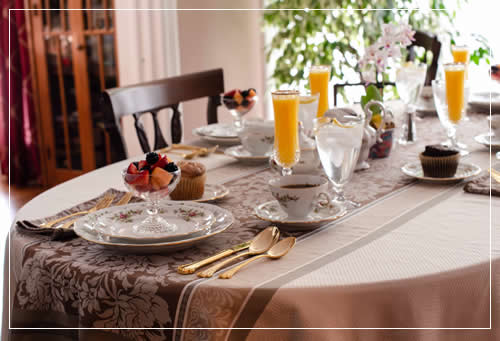 Having just completed a four year, full house restoration, the nearly 8,000 sq/ft., circa 1900, Classic Revival architecture is a spectacular and welcoming respite for those wanting the quiet and solitude of a simpler time.
Guests can gather in the grand living room, the parlor, the solarium, or the screen porch with its barrel ceiling. Guests can also relax in the six-person hot-tub and gaze at the stars.
Our five suites, each with a luxurious in-suite bathroom, are furnished in period antiques. Each morning, guests awaken to the smell of fresh baked muffins, breads, and fresh coffee, followed by a multi-course gourmet breakfast.
Each bathroom is individualized, offering guests choices of a two-person Whirlpool bath, clawfoot soaking tubs, marble showers and floors, and dramatic curved all glass showers with over-sized rain shower heads.
Please consider Valparaiso Inn for anniversaries, romantic escapes, historic vacations, girlfriend getaways, family reunions, business retreats and receptions, wedding and baby showers, couples traveling together and singles needing some restorative time away. The Valparaiso Inn is inclusive and welcomes guests. We strive to provide you with an experience you'll cherish for years to come.
After 6 years and almost $400K, dilapidated mansion is reborn as Valparaiso Inn Bed & Breakfast
CHICAGO TRIBUNE ARTICLE by Jerry Davich
"The home has since been reviewed by the National Registrar of Historic Places and given a "noteworthy" designation. Noteworthy is a gross understatement.
"Today, it's a magnificently restored mansion, costing Berman four years of sweat, stress and aggravating red tape, and costing him nearly $400,000. It boasts nearly 8,000 square feet, with five luxuriously appointed guest suites.
"Last month, Berman finally opened his dream – the Valparaiso Inn Bed & Breakfast, the first of its kind in the city's historic district, just where it should be. It blends in like a rose in a garden yet stands out like one in full bloom again."
Innkeepers at centuries-old Valparaiso landmark share history and prized pear recipe.
CHICAGO TRIBUNE ARTICLE by Philip Potempa
…. "Today, the home has been restored and transformed into The Valparaiso Inn, which opened last year with Berman and Bryant as the proprietors. Bryant, who is an English and writing professor at Purdue University Northwest, helps with the cleaning and linen duties, and Berman, who is also a licensed therapist, handles much of the cooking and kitchen chores. Originally from Virginia, the couple will celebrate their 30th wedding anniversary in August 2019 and they love their new identities as innkeepers hosting guests to enjoy historic accommodations."
The Valparaiso Inn will be included for the Porter County Museum's 2019 Historical Valparaiso Home Tour from 10 a.m.-5 p.m. on May 11