Valparaiso Inn Bed & Breakfast Innkeepers
Meet James M. Berman & Lizbeth A. Bryant, Innkeepers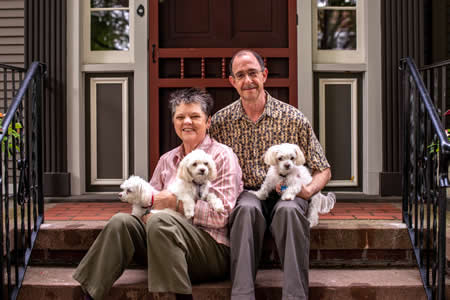 We met more than thirty years ago in Richmond, Virginia. We were instantly attracted to each other and soon started dating. After a while, we began taking weekend getaways to the Blue Ridge Mountains. We enjoyed hikes, amazing landscapes, wonderful restaurants, antique shopping, and most of all, our stays in quaint Bed and Breakfasts.
In 1989, we married and honeymooned in Maine. We stayed in several grand Victorian Bed and Breakfasts along the coastline. In 1990, we moved to Tampa, Florida, to begin graduate school. Liz studied English Composition and Jim studied to become a psychotherapist. Over the next four years in Tampa, we stayed at Bed and Breakfasts for weekend escapes and on our trips back to Virginia to visit family. We were attracted to each home's unique architecture, the pride of ownership each innkeeper had, the genuine warmth, hospitality, and of course delicious breakfasts.
On one of those trips, about 25 years ago, we talked about our dreams for the future. Liz said, "One day I will be an English Professor at a university that is close to a major city where we can go to theatre and we can live in a small town that has coffee shops and really good restaurants we can walk to." Jim replied, "I want to have a small private practice, where I can walk to my office. I want to find a big old house that needs to be restored. I can work on it and then we can open our B&B."
Over the next 20 years we moved three times with Liz's career; three years in Texas at Texas A&M, seven years in Ohio at Ohio State, and then our last move to Indiana in 2004, where Liz teaches at Purdue University Northwest. Over the years, Jim worked as a psychotherapist helping others and pursued his passion of fine cooking and baking. We rescued dogs, raised our daughters, and now love or granddaughters.
On Mother's Day 2012, we drove to Valparaiso for a Mother's Day Brunch. It was a magnificent spring morning; the sky was bright blue and the sun was warm. Hand in hand after our meal we decided to walk up Valparaiso's historic Washington Street and saw a "For Sale" sign. Jim looked at Liz and said, "That's it!"
After much toil and 18 months of negotiations, we purchased one of Valparaiso's grandest homes in December 2013. For the last four years, Jim worked tirelessly to restore the home to its original grandeur and ready her to become Valparaiso's first Bed and Breakfast located in the Historic Conservation District.
In 2015, Jim left his position at a large mental health agency to open his small private practice, five blocks away. Today, everything we dreamed 25 years ago has come to be.