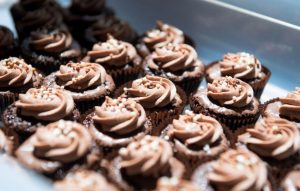 Mark your calendar and make your reservations at Valparaiso Inn Bed & Breakfast for a very fun and delicious event: The Valparaiso Chocolate Walk!
5th Annual Chocolate Walk
Saturday, April 27, 2019
Brought to you by Valparaiso Events
Only 400 tickets will be sold!
Ticket-holders will join Valparaiso Events on Saturday, April 27, 2019 from 12-4pm for a day of chocolate bliss! Surely a chocolate lover's paradise as attendees stroll through downtown while eating chocolate along the way!
Attendees will start at the Valparaiso Events office, located at 150 W. Lincolnway Ave. Suite 1006 to receive their Chocolate Walk map, bag to hold their chocolate goodies, lanyard signifying their participation in the walk that also serves as their punch card, and their first mouth-watering chocolate treat.
Follow the map to visit some of downtown Valparaiso's treasured destinations and receive a tasty chocolate sample at each. Plan to browse through the stores, or stop for lunch or dinner along the way!
With samples donated from some of Valpo's top candy makers, bakers, & ice cream shops, all money raised from ticket sales will help fund our many free and family friendly events held all year long in beautiful Valparaiso.
For information about all of our events, visit us at https://valparaisoevents.com