October 5, 2019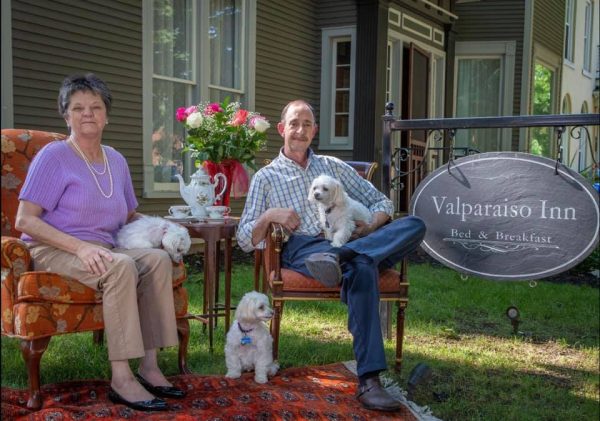 Today marked the first anniversary since our grand opening and ribbon-cutting.
We had an amazing first year with over 500 guests from 34 states and nine countries. It was a joy and honor to personally welcome each guest to the Valparaiso Inn.
I thank all whom have encouraged and supported my vision and dream to create Downtown Valparaiso's first bed-and-breakfast.
We had many exciting events and opportunities. We participated in Valparaiso Events' 2019 Chocolate Walk, hosted Duo Sequenza's Parlor Concert – supported through grants of the National Endowment for the Arts and the Porter County Foundation. We opened our doors for the Porter County Museum's Historic Homes Tour and welcomed over 400 visitors in one afternoon.
We were featured in articles published in the Chicago Tribune, Northwest Indiana Times, and the Northwest Indiana Business Magazine. We received the 2019 ROSE Award (Recognition of Service Excellence) from the Indiana Dunes Tourism Bureau.
We received 82 independent Five Star Reviews.
We hosted the Indiana Suicide Prevention Network's reception for Mariel Hemingway. We welcoming world renowned astrophysicist and National Science Award Laureate, Dr. Sandra Faber, and MacArthur Genius Award Fellow, Dr. Marc Edwards to the Valparaiso Inn. We were graced with a stay by the Most Reverend John Whitcombe, Dean of Coventry Cathedral of England.
The Valparaiso Inn served as a venue for bridal and baby showers, family receptions following memorial services of loved ones, corporate business retreats, women's book club gatherings, retirement celebrations, university administration & faculty meetings, and conversations among community leaders coming together to discuss and address significant community issues.
We have several exciting events and plans for the year ahead.
Finally, I give thanks to the love of my life, Liz Bryant. Thank you for standing beside me and supporting me as I pursued my dream of becoming an innkeeper.